In this article, you'll get to know about Android Studio and its features so that you can develop an amazing Android app in just a few days. So, without wasting much time let's head over it.
Overview:
Android Studio is one of the best and official IDE for Google's Android OS. This IDE is created on JetBrains' IntelliJ IDEA and is designed especially for Android development. Talking about IntelliJ IDEA, it's a Java integrated development environment (IDE) used for evolving computer software.
This official IDE is available for download on macOS, Windows, and Linux-based operating systems. Now, Eclipse Android Development Tools is replaced by Android Studio as the essential IDE for native Android application development.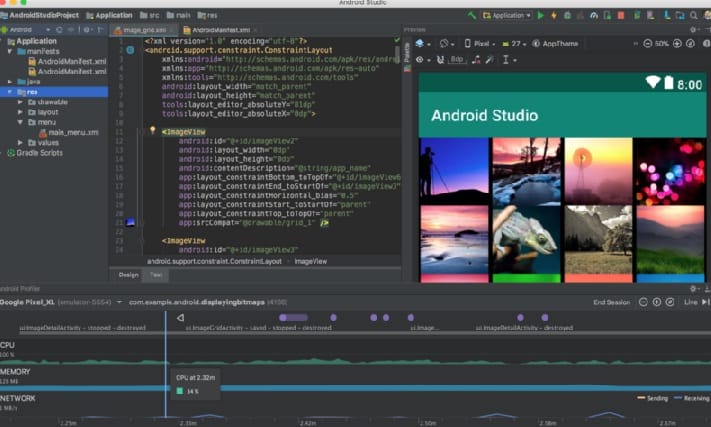 Android Studio was first announced on 16 May 2013 at the Google I/O conference. This IDE is continuously been updated by the company with the various versions and the current stable version is 3.1.3 which was released in June 2018.
Android Studio Requirements:
1. Operating System- Microsoft® Windows 7/8/10 (32-bit or 64-bit), 64-bit required for native debugging Mac OS X 10.10 (Yosemite) or higher, up to 10.13 (macOS High Sierra) GNOME or KDE desktop Linux (64 bit capable of running 32-bit applications)(GNU C Library (glibc) 2.19+).
2.Disk space- A minimum of 2 GB of available disk space is required and 4 GB is recommended.
3.RAM- A minimum of 3 GB of RAM is required and 8 GB of RAM is recommended, plus 1 GB for the Android Emulator.
4.Java version- Java Development Kit (JDK) 8, use of bundled OpenJDK is recommended.
Android Studio Features:
These are some of the key features of this IDE:
1. It has Gradle-based build support.
2. It has Android-specific refactoring and quick fixes.
3. It has a template-based wizard to make the common Android designs and components.
4. It has a rich layout editor that grants users drag-and-drop UI components, a choice to preview layouts on multiple screen configurations.
5. It has a huge base to build various Android wear apps.
6. It also has an Android Virtual Device to run and debug apps in the Android Studio.
How To Use Android Studio:
Follow this link in order to learn how to build an app through Android Studio.
http://www.instructables.com/id/How-To-Create-An-Android-App-With-Android-Studio/
Download Android Studio:
Follow this link to download the latest version of this IDE
https://developer.android.com/studio/
I think by going through this article you'll gain knowledge of every aspect of this IDE. Hope you've got a great knowledge of this amazing IDE.  Share your thoughts in the comments section given below and do not forget to subscribe to this website to get all the latest tech updates right in your inbox.
If you're also a tech geek like me, then you can submit your technology articles and can showcase your writing talent. If your post has the ability to attract people, then it'll be published on HitechDivyanshu. So, what are you thinking of, become a Hitech'ian!
Follow HitechDivyanshu on Twitter, Facebook, and Instagram to remain up-to-date with technology.