WhatsApp Web Dark Mode:
WhatsApp recently introduced dark mode in Android and iOS. But the new trick which got surfaced on the internet a few days ago is about the WhatsApp web dark mode. This tip is made available on the WABetaInfo website, recently. So I thought I must tell you how to enable WhatsApp Web dark mode.
"By using this trick you can use WhatsApp Web with the dark background and your eyes will surely love this especially during the night"
How to Enable Dark Mode on WhatsApp Web on Chrome and Other Browsers: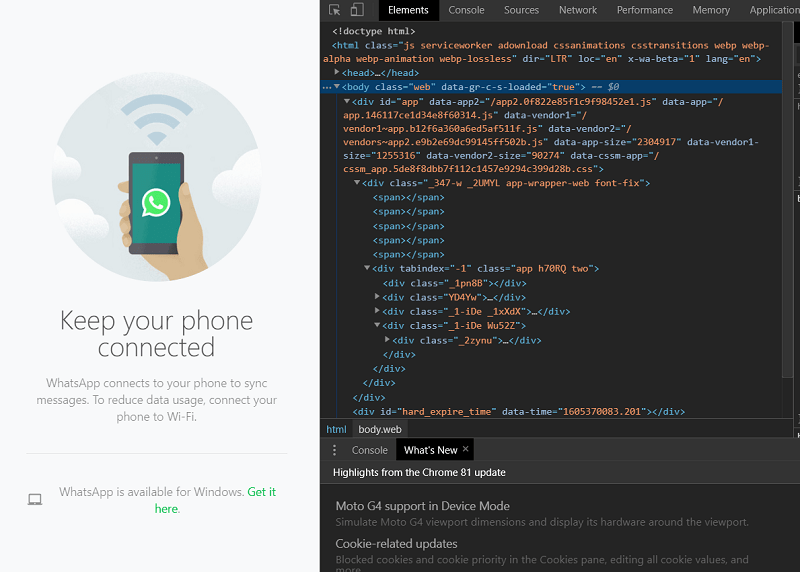 Log in on WhatsApp Web by using QR Code. To do this open WhatsApp setting on your Android or iOS device and select WhatsApp Web.
After successfully logging into WhatsApp web, right-click on WhatsApp Web page and select 'Inspect' or similar.
If you're on Chrome browser then at the bottom click in 'body' and search for body class="web". If you're on other browsers then you've to search for body class="web text-rendering-bug-fix".
Now right-click on this line and select 'Edit' or 'Edit as attribute'.
Change it to body class="web dark" or body class="web dark text-rendering-bug-fix" depending on different browsers.
Finally, hit Enter.
Now enjoy the dark mode in WhatsApp Web (WhatsApp Web Dark Mode on PC).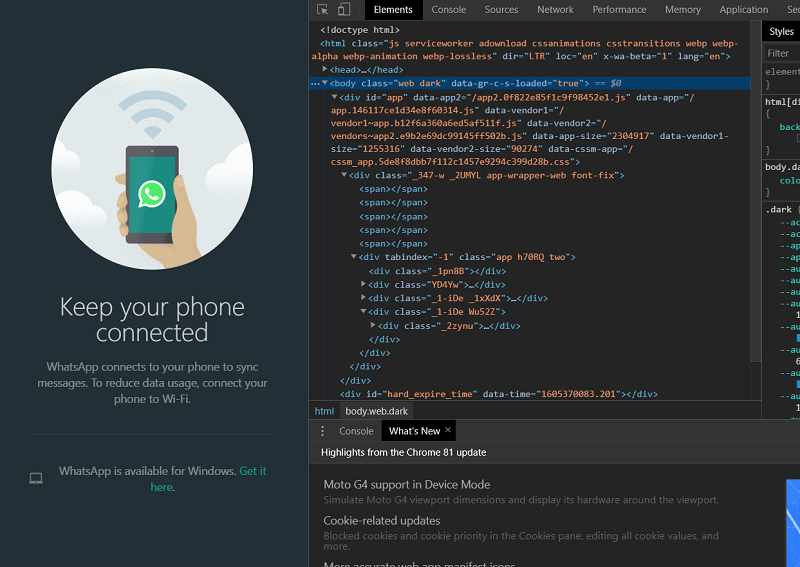 Note: This is just the experiment or a trick. It may or may not work properly. For example, you've to follow the above steps again if you refresh the WhatsApp Web page or when you open WhatsApp Web from a different location (for example from a different device or a different browser). If you can't able to do this awesome trick then don't hesitate to ask me in the comments section below. I'll be glad to help you:)
"WhatsApp is currently testing dark mode for its web version and is going to release it soon"
Do you like this trick and which WhatsApp theme you like the most, dark or light? Tell me in the comments section below.
Do not forget to subscribe to this website to get all the latest tech updates right in your inbox. If you're also a tech geek like me, then you can submit your technology articles and can showcase your writing talent. If your post has the ability to attract people, then it'll be published on HitechDivyanshu. So, what are you thinking of, become a Hitech'ian!
Follow HitechDivyanshu on Twitter, Facebook, and Instagram to remain up-to-date with technology.