We are all aware of the fact that how many social media users are facing daily trolling and online bullying on their social media accounts. This also leads to mental stress and anxiety, which causes trouble for the person at the end. Therefore Instagram has launched and is planning to roll many new features to fight this online bullying. Now you can delete multiple comments and block or restrict accounts at once, you'll be able to pin the positive comments so that they must show at the top of your comments section, and you can now specify which people can tag you or mention you in a comment, story, or in a caption. Now let's see how to enable these features in our iPhones and Androids.
Instagram delete comments in bulk in iOS: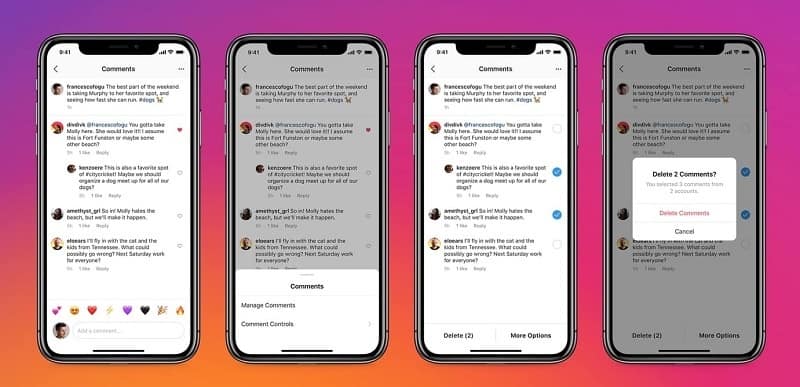 There are some of the negative comments which are acting like dirty fishes and sometimes it becomes necessary to remove those dirty fishes so that your whole lake of comments doesn't get affected because of them. So, if you are an iOS user and want to delete multiple comments at once,  tap on the comment and three dots on the top right corner and then select the 'Manage Comments' option. You can choose up to 25 comments to delete at once. For Android users, I would only like to say that:
"Look more carefully in your Instagram app, it must be there already!"
If you can't find then don't hesitate to ask me in the comments section below. I will help you surely:)
Instagram block or restrict multiple accounts at once in iOS and Android:
By using this new feature on Instagram you can now restrict comments from particular accounts who are constantly spreading hate in your comments section. If you are an iOS user, you need to tap on the comment and three dots on the top right corner. Select the 'Manage Comments' option and tap on the 'More Options'. Now you can select the accounts which you want to restrict from commenting on your photos. If you are an Android user, then you need to press and hold on a comment to select it. Then you need to tap on the three dots on the top right corner and select the 'Block or Restrict' option.
"Now you can take a deep breath as now you blocked some of the mischievous accounts"
Controlling who can tag and mention you:
Sometimes it becomes necessary to choose who can mention you or tag you in a story as you don't know to which post, whether it is bad or good, your profile is been tagged! So to enable this feature go to the 'Privacy' tab located in the settings menu. You will see three settings there: 'Everyone', which lets everyone, 'Only People You Follow', which only allows the people you follow, and 'No One', which lets nobody on the platform to tag you in the caption, story, or in a comment.
Show the positive comments first:
'Pinned comments' is one of the features which Instagram will start testing soon. It is not available yet but it will be available soon in the upcoming updates. According to Instagram, by using this feature you will be able to pin some of the positive comments. Then those pinned comments will be seen at the top of the comments thread on your post.
"Hope you will find this feature similar to the pinned comment feature in the YouTube comments section"
Note: Remember to update your Instagram app to the latest version before following the above procedures. If any feature is not available in your Instagram app, then you must wait as it can be either in rolling stage or it may not be available at your region
Which feature you like the most? Do you think that these features will control online bullying in the future? Tell me in the comments section below and do not forget to subscribe to this website to get all the latest tech updates right in your inbox. If you're also a tech geek like me, then you can submit your technology articles and can showcase your writing talent. If your post has the ability to attract people, then it'll be published on HitechDivyanshu. So, what are you thinking of, become a Hitech'ian! Follow HitechDivyanshu on Twitter, Facebook, and Instagram to remain up-to-date with technology.