ROG Phone 5 Review: Gaming Beast Has Arrived!
Asus has finally unveiled its latest and greatest 2021 gaming smartphone – ROG Phone 5. As the name suggests this smartphone comes with only one purpose i.e gaming.
Asus has skipped an entire generation and jumped directly to the fifth-generation instead of going to the fourth generation.
So without wasting much time let's head over to the exciting specs of this smartphone in this ROG Phone 5 review.
Note: This is an honest ROG Phone 5 review and it neither promotes nor criticizes this product.
ROG Phone 5 Review: Specifications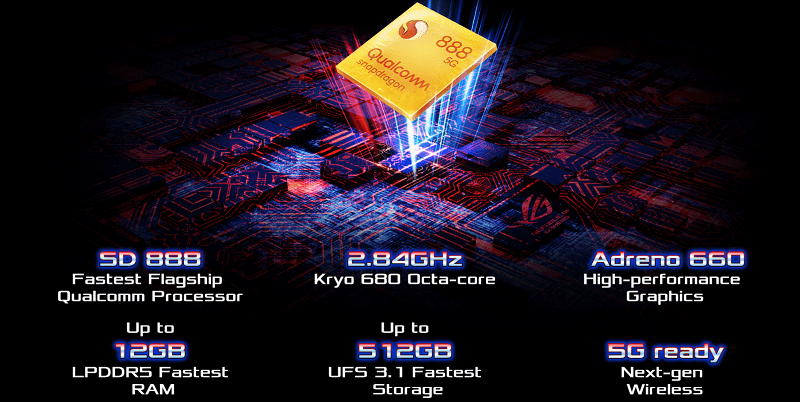 Asus ROG Phone 5 comes with the latest Qualcomm Snapdragon 888 5G octa-core processor clocked at 2.84 GHz. It also uses the Snapdragon Elite Gaming feature to boost gaming performance to a high level.
You get the beautiful Samsung-built 6.78-inches sAMOLED display on this new ROG device. As usual, you get the 144 Hz refresh rate display with HDR10+ support which makes your content and games look smoother and vibrant.
The speakers on this device are also loud enough to fill your room with noise. Thanks to front-firing 7 magnet stereo speakers. The stereo separation is also great and you can easily identify from which side the footsteps are approaching.
Your favorite headphone jack is back on this smartphone. This was made possible due to the new internal design of this smartphone. Asus really cares about its customers. The battery is divided into two, carrying 3000 mAh power in each.
So both batteries when combined, you will get a 6000 mAh power which can provide you uninterrupted gaming sessions for up to 7 hours on this device. ROG Phone 5 also comes with fast charging support up to 65W. You also get dual USB-C charging ports to plug in your accessories.
This smartphone comes with 8GB and 12GB RAM options along with 128GB and 256GB storage options. For better cooling, this device comes with an improved copper vapor chamber and a new cooling mechanism to keep your phone chill during intensive gaming sessions.
"If you want more cooling then you can buy a cooling accessory provided by Asus which can drop your device temperature by 10 degrees"
When talking about the camera department, this smartphone comes with the same triple camera setup at the rear as seen in ROG Phone 3. You get a 64MP primary camera, 13MP ultra-wide camera, and 5MP macro camera.
You can shoot videos up to 8K at 30 FPS. Night mode feature enhances your night photography. At the front, you get a 24MP selfie camera that can click your professional portraits.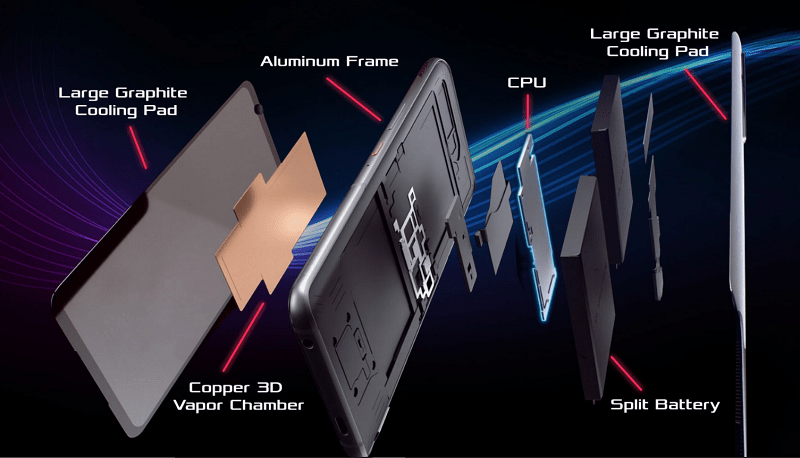 For network connectivity, this smartphone comes with 5G support, WiFi 6, NFC, and all other necessary network features. ROG Phone 5 intelligently selects the best network between WiFi and mobile data during intensive gaming sessions. For the unknowns, this device comes with dual SIM support.
ROG Phone 5 Gaming Features:
Asus has improved AirTriggers by upgrading them to version 5 which means they are more sensitive than before. Motion control is also greatly improved on this device which can give an additional advantage in competitive gaming.
The signature ROG Phone RGB lights are also improved and can show more gradient color patterns than before. Performance manager helps you manage your device performance by selecting various power profiles such as X-Mode, X-Mode+, Dynamic mode, etc.
Armoury Crate helps you fine-tune your CPU and GPU performance individually and in one place. You can increase or decrease the CPU or GPU performance according to your need. You can also alter the settings of each game so that you get the best experience while playing.
You can access Game Genie while playing any game. Game Genie helps you customize your device settings while playing. You can lock the refresh rate, lock brightness, check the GPU/CPU temperature, current FPS, and a lot more.
You also get haptic audio with 2-Zone vibration feedback. Currently, at the time of writing this article, this feature is only available for Call of Duty Mobile and PUBG Mobile. eSports Mode gives you an additional advantage in competitive gaming by boosting your device performance.
ROG Phone 5 Price In India And Availability:
Asus ROG Phone 5 Price in India for the 8GB+128GB variant is been set to INR 49,999 and INR 57,999 for the 12GB+256GB variant. This smartphone will be available on Flipkart from 15 April 2021 at 12 noon IST.
ROG Phone 5 Pro And ROG Phone 5 Ultimate:
For those who demand more RAM in a smartphone to play heavy games smoothly, Asus has launched ROG Phone 5 Pro and ROG Phone 5 Ultimate for them. ROG Phone 5 Pro comes with 16GB of RAM and 512GB of storage while ROG Phone 5 Ultimate comes with a whopping 18GB of RAM and the same 512GB of storage.
You get ROG Phone 5 Pro in a Phantom Black color while ROG Phone 5 Ultimate in Matte Storm White color. Both these smartphones come with the ROG Vision display which is simply the secondary small display at the rear panel of the smartphone.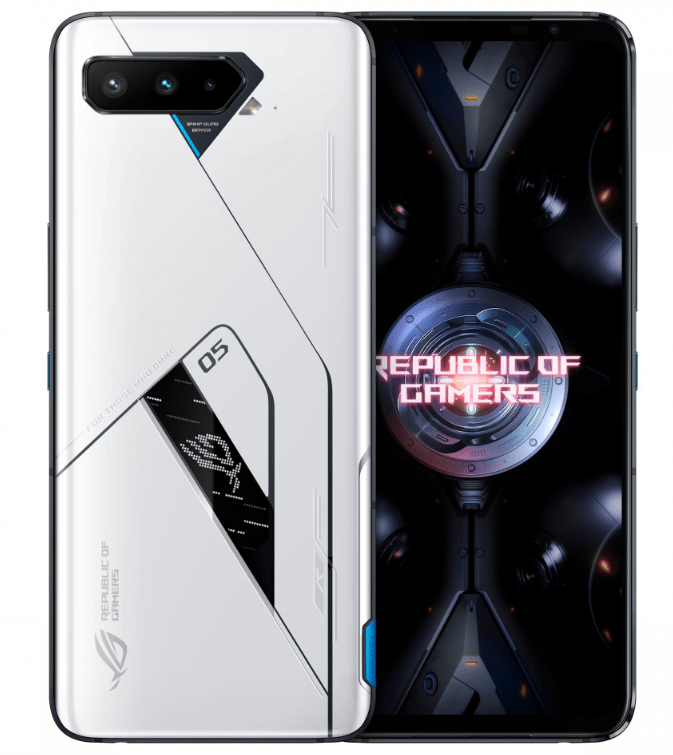 In the ROG Phone 5 Pro, you get the color PMOLED secondary display while in ROG Phone 5 Ultimate, you get only a monochrome PMOLED secondary display at the back.
Both these smartphones come with rear capacitive triggers in addition to the Air Triggers on the side. This provides you an additional advantage while playing action-intensive games by giving more controls.
ROG Phone 5 Pro And ROG Phone 5 Ultimate Price In India:
The price of the ROG Phone 5 Pro in India is been set to INR 69,999 and INR 79,999 for the ROG Phone 5 Ultimate.
These smartphones are listed as coming soon on the ROG official website. So the hardcore gamers and more RAM lovers can wait for these smartphones.
My Verdict On ROG Phone 5:
Asus ROG Phone 5 Introduction | Credits: ROG Global YouTube
If you game a lot on your smartphone and want a gaming-centric Android smartphone, the ROG Phone 5 is the best option in 2021. It has the latest processor, improved gaming features, a better cooling mechanism, and of course a larger and a high refresh rate display.
The price in India of this smartphone is not that bad. If you want more RAM and more controls then you can go with ROG Phone 5 Pro and ROG Phone 5 Ultimate. These phones can provide you immersive and long gaming sessions than ROG Phone 5.
I'll give 4/5 stars to this smartphone. One star will be deducted for not improving cameras and repeating that old camera setup.
Do you like ROG Phone 5? Planning to purchase it for intense gaming? Which feature on this smartphone you liked a lot? Tell me in the comments section below.
Do not forget to subscribe to this website to get all the latest tech updates right in your inbox.
If you're also a tech geek like me, then you can submit your technology articles and can showcase your writing talent.
If your post has the ability to attract people, then it'll be published on HitechDivyanshu. So, what are you thinking of, become a Hitech'ian!
Follow HitechDivyanshu on Twitter, Facebook, and Instagram to remain up-to-date with technology.