Hello, Hitech'ian welcome back to my another tech post. In this post, I am going to tell you about the top 3 features list a modern iPhone must come with which it doesn't have. So, without wasting much time let's head over to it.
Everyone dreams of taking an iPhone once in a lifetime especially for those whose budget is limited. But do you think that Apple genuinely gives all the required features which must be given for a smartphone which costs more than one lakh rupees in India and above 1000 dollars in America? So there are top 3 features list below which Apple should integrate with their iPhone's hardware and software.
1. App locker:-
App Locker is on number one in the top 3 features list.
The most important thing an iPhone miss today is an App Locker. There is neither any specific app in the AppStore for encrypting the apps nor any default app locking feature is present in the iOS itself.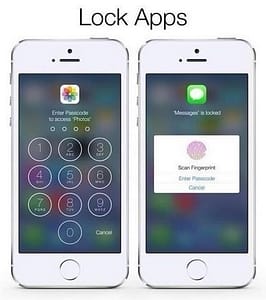 As you generally see, today most of the Android phone manufacturers are providing an App locker feature in their phone by default. This gives an Android phone user a benefit of encrypting their apps thus keeping their private data safe.
Many third-party app locker apps are also present in the Google Play Store which gives the user an option to secure their private stuff. Only by giving Face ID and Touch ID is not sufficient for security. There must be also a second layer present after the Touch and Face ID in the protection of Apps and personal stuff.
Apple must also understand that user privacy is also important just as the high cost of the phone!
2. Dark Mode:-
Dark Mode is on number two in the top 3 features list.
This is another feature that users are demanding more nowadays. Nowadays various smartphone manufacturers such as Google and OnePlus are providing dark mode and dark themes for their smartphones. Various social media applications are also coming with the dark mode as one of the features in them. You can see dark mode on YouTube, Twitter, etc.
Dark mode or Dark theme provides a much easier readability in the night time. This also reduces the strains on the eyes. The currently OLED panels used in modern smartphones not only increase the brightness but also decreases the battery life as well. This is where dark mode comes into play and saves the phone battery hugely.
By learning from Android Pie, Apple must provide this feature in their next iOS update, as iPhones OLED displays are utilizing more battery juice than previous LCD displays.
Apple must understand 'Smart Invert' and 'Night Shift' doesn't work smart always!
3. Rapid fast charging with a fast charger:-
This is on number three in the top 3 features list.
Why people will buy iPhone if they can't get the fast charger in the phone box? Apple must understand that after spending lakhs of rupees a person is expecting great things out-of-the phone box.
But what it actually gives a standard old-fashioned 5W-1A charger. I know that the fast chargers are available in the market and for a significant amount of money but after spending so much of amount the user is expecting a fast charger in the box itself.
Apple must learn from their Android competitors and also their fast charging technologies and must start providing fast chargers instead of slow chargers inside the box.
A slow charger can also slow the revenue of Apple too!
So, these are the top 3 features list a modern iPhone must have. Which feature do you want to have in your iPhone as soon as possible? Tell me in the comments section below so that Apple must take your feedback as a lesson. Do not forget to subscribe to this website in order to get the latest tech posts right in your inbox.